FAQ: What mounting adapter do I use with my Y-cable?
This is a printed page that might be out of date. To read the most up-to-date help content, visit https://device-help.verizonconnect.com.
The Y-cable mounting adapter is required to fit the replacement OBD-II port into the vehicle's original mounting location.
A selection of adapters ship with the Y-cable.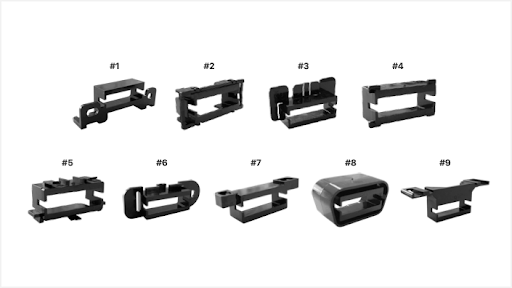 Select the adapter that best matches the vehicle's existing OBD-II port mounting adapter. Each adapter has a number stamped on it.
| | |
| --- | --- |
| Vehicle make | Adapter # |
| Ford / GM | 1 |
| Toyota / Honda / Lexus / Chrysler | 2 |
| Saturn / GM (older) | 3 |
| BMW / Mercedes | 4 |
| Porsche / Audi / Volkswagen | 5 |
| Volvo | 6 |
| SAAB | 7 |
| Ford Focus | 8 |
| Volkswagen / Ford | 8 |
| Ford Mustang / Ford Trucks (with SDLC) | 9 |
| GMC / Chevy | 10 |