Technician guide: Magnetic door sensor
This is a printed page that might be out of date. To read the most up-to-date help content, visit https://device-help.verizonconnect.com.
Skill level: Expert


Installers must have a working knowledge of vehicle electrical and starting systems, and know how to use relays, diodes, sensor inputs.
Estimated time for install: 90-120 minutes
This guide covers the installation of magnetic door sensors.
Preparing to install the sensors
Gather the parts
CalAmp 3640 and ECMD harness kit

F39534 - Connectorized I/O harness

F39381 - Magnetic door sensor
For Carrier Installs:
F39340 - Connectorized Relay Socket

F39338 - 12V Relay
Gather your tools and supplies
Depending on your vehicle type, you might need some of the following tools:
4 conductor 22 AWG stranded wire or better with PVC jacket, foil shield, and ground drain wire

1/2" extra-long drill bit for metal, up to 24 inches long to drill the front wall of the refer

20-30 1/4" plastic or nylon cable clamps per reefer

1/2" cable clamps (5 per refer to hold the cable outside the refer)

3/8" split loom up to 70 feet per install

Various grommet sizes (at least one 3/4" grommet per reefer)

Silicone Sealer All weather non-corrosive silicone to seal grommets and reefer walls

20-30 self-tapping screws size #10 3/4" for metal per install

Numerous red, blue, and yellow heat shrink butt connector sizes

25-35 self-tapping screws size #10 1/2" to secure cable clamps per install

A powerful cordless drill with extra batteries
Preparing to install the sensors
The Sentrol 2507-A is a magnetic N/O or N/C door sensor with three wire leads. Follow the instructions below to send the vehicle tracker input a ground signal trigger when the door is open:
Installers must ground temperature probes, ground drain wires, and door sensors to the vehicle tracker.


Do not make a chassis ground. Temperature probes are too sensitive to ground noise.
Test or "Ohm out" your multimeter leads by selecting the Ohm function and touching the leads together. The multimeter should read .5 Ohms or less.
Red = NC (normally closed) - Connect to the vehicle tracker sensor input wire
White = NO (normally open) - Unused
Black = Common - Connect to an available vehicle tracker ground wire shown in the CalAmp 3640 I/O harness wiring diagram.
Do not make a chassis ground with the black wire.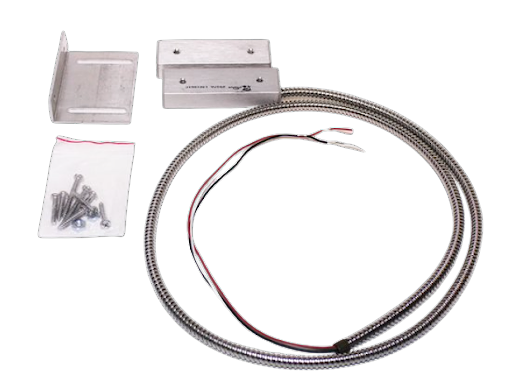 Installing the sensors
Mount the sensor switch to a fixed point/frame, and the magnet to the door oriented so their text reads in the same direction. Use only the supplied screws or 18/8 stainless steel screws.
Mount the sensor switch at the desired location.

Set your multimeter to read Ohms, and attach its leads to the switch's black and white wires. The meter should read infinity with the magnet away from the switch.

Bring the magnet toward the switch until the multimeter reads 0 ohms and mark this position. Continue moving the magnet towards the switch until the meter reads infinity and mark that position.

Position the leading edge of the magnet between the two marks you just made and mount the magnet using the mounting plate as necessary.
Specifications
US Form C (2507A, 2507AH, 2507AD) Voltage: 30 V max. Current: 0.25 A max. Power: 3.0 W max.
US Form A (2505 & 2505A) Voltage 100 V max. Current 0.5 A max. Power 7.5 W max.
UL Canada specifications - Form A (2505A) Voltage 30 V max. Current 50 mA max.
E.U. rev specifications - Form A (2505/2505A) Voltage 48 V max. Current 0.5 A max.
Contacting Support
You can contact Verizon Connect Support using the following channels:
Call:
Fleet Support: # 877.943.7306
Fleet Govt Support: # 800.906.9316 (Verizon Connect installation partners only)
Networkfleet Support: # 866.227.7323
Email:
Fleet Support: support@verizonconnect.com
Fleet Govt Support: fleet.govt@verizonconnect.com (Verizon Connect installation partners only)
Networkfleet Support: nwfsupport@verizonconnect.com
Disclaimer
Verizon Connect shall have no liability whatsoever for any damages that arise from, or are connected with, your use of our services, including GPS tracking hardware, in a manner contrary to the(se) instructions or in violation of law and/or our agreement. Installed devices may only be removed and transferred to another vehicle if the second has been tested for compatibility, as per the(se) instructions. Transfers between vehicles which do not follow the(se) instructions will void any and all warranties from Verizon Connect, and relieve Verizon Connect of all liability for damages that arise from or are connected with your use of the devices.